John Bell Pipeline Equipment Co. Ltd stock the full range of Teekay Mechanical and Flexible Couplings.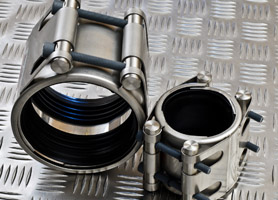 Teekay Couplings
Teekay Couplings are used extensively for the installation of new pipelines and for the repair and maintenance of existing piping systems. They are suitable for jointing most types of plain ended pipes between 20MM and 3000MM in diameter and are used extensively by the Oil, Petrochemical, Water, Construction, Power, Process and Shipbuilding Industry.
Teekay products successfully combine strength with flexibility. Strong and robust they are capable of working pressures up to 25 Bar, are light in weight and easy to install. Available from John Bell Pipeline Equipment Co. Ltd stock or on quick leadtimes from factory. Teekay Couplings offer the pipeline designer, installer and operator significant commercial benefits as well as positive technical advantages.