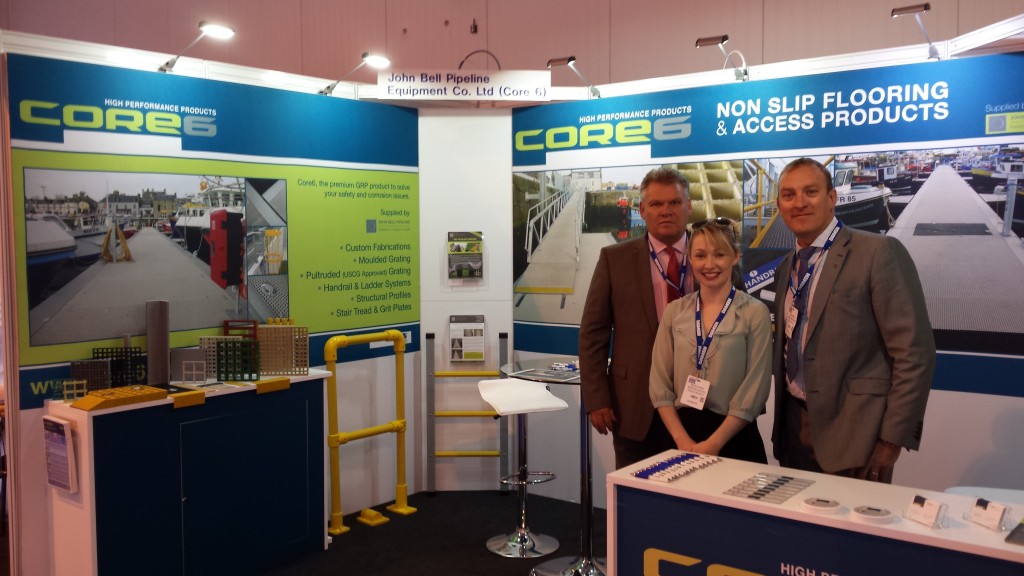 Core6 – the new generation of composite materials was launched by John Bell Pipeline Equipment Company Limited on stand B49 at the Seawork International Marine & Workboat exhibition at the Port of Southampton from the 16-18th June. John Bell Pipeline will be showcasing the strength, durability and diversity of Core6 products which can be used in highly corrosive applications where health & safety, non-slip surfaces and weight-saving is a priority.
Core6 is a specialist composite product used for flooring and access products which has been supplied by John Bell Pipeline to the Marine, Oil & Gas, Subsea & Utilities industries since 2007. Previous projects have serviced marinas & jetty's, offshore platforms, distilleries and national gas supply sites with GRP non-slip flooring & handrails as well as subsea manifolds, dropped object covers, cable trays and man whole covers.
Core6 products are made from fibreglass reinforced plastic (GRP/FRP) making them extremely lightweight, easy to assemble, non-corrosive, anti-slip and non-conductive. These benefits provide a cost effective, low-maintenance solution for repair and maintenance requirements both on and off-shore. Core6 grating and panels have no scrap value, can be fabricated to any custom size and are available with fine, medium and coarse grit surfaces to suit your level of non-slip needs.
Ian Campbell, Business Development Manager for Core6 commented 'Eight years after the conception of our GRP division we have decided to give this product range a stand-alone brand identity to heighten its profile in the marketplace. Originally focused on the supply of Linepipe equipment to the Oil & Gas industry, John Bell Pipeline diversified their scope of supply and now supply various industries including Marine, Utilities and Subsea. Sales have seen a promising increase over the past three years and following the opening of our GRP fabrication facility in June 2013 we now have increased capacity for larger and more complex projects.'
Arrange a visit by one of our experienced sales team to discuss the Core6 composite range, assess your requirements and provide you with a tailored quote for a cost-effective, long term solution to your needs.
Call +44 (0)1224 714514 and ask to speak to our Core6 GRP department or email your enquiry to sales@jbpipeline.co.uk.
Visit our new website www.core-6.co.uk