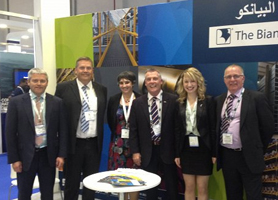 Bianco International continues to develop within the Middle East market and will be showcasing their full product range at ADIPEC, the Abu Dhabi International Petroleum Exhibition & Conference from 9-12 November 2015.
This year Bianco International will be exhibiting alongside their UAE partners Al Ghaith Oilfield Supplies & Services Co, who have been working with them since January 2015 supplying Linepipe, Fittings, Flanges, Valves, Structural hollow section, and Core6 GRP products into the Emirates. Bianco International also operate through their other agents in the Gulf region:
In January 2015 Bianco International committed to developing business releationships in the region by opening an office in Abu Dhabi and appointing a business development manager based in UAE to support their network of distributors in the GCC. The group has seen significant business and continues to invest in stock and personnel to service the region.
Paul Smith, Business Development Manager for the Middle East region commented "Since January 2015 the company has worked hard to build relationships with our partners. With a dedicated export sales team managing key accounts in the middle east, we have been able to provide our customers with excellent customer service and quick response times. With a significant growth forecast for the second year ,we are predicting a positive return on investment".
The Bianco Group holds over 500,000 tonnes of stock located within Europe and Americas resulting in timely delivery and turn-around times. With strength of stock and global locations we can be sure to provide excellent service to our customers in the GCC region for the forseeable future.
Abdul Nasser Zeid, Sales & Marketing Director at Al Ghaith Oilfield Supplies & Services commented "We have been working with Bianco International successfully now for just under one year. The level of customer service, delivery and support is excellent, allowing us to pass on this excellence to our clients."
Following success in the Middle East region, Bianco International are now expanding their business development strategy into South East Asia, the Caspian and Africa over the coming months.
Come and visit us on stand 5310 & 5320, part of the Al Ghaith stand to discuss how Bianco International can assist with your global pipeline eqipment requirements.
Local contact details:
Paul Smith – Business Development Manager
Abu Dhabi Office
Tel: 00971 2 6219373